Beaver Creek School District
A Message from Our Superintendent and Principal
November 2022
Dear Beaver Creek Community,
Take a look at the good things happening in the Beaver Creek School District.
APS stopped by to award Devon Artrip and Cody Kukulski their $500 APS grant. We also had Jessica Lux-Herrera and Lisa Powers who were awarded that grant earlier this year.
Third grade went on their field trip to the Arizona Natural History Museum.
Mrs. Guth started her annual family turkey decorating contest.
Mrs. Quintana's third grade made multiplication factor turkeys.
Mr. Clarke started rockets with 8th grade! We look forward to their launch.
Volleyball placed fifth at the area end-of-season tournament and flag football placed fourth at their end of season tournament.
Mr. Clarke and Mr. Kukulski have started up this year's Bike Club hosting 4th through 8th grade students who show good character. Thank you to Wheel Fun and Verde Valley Cycling for sponsoring this club.
At the end of October we had our annual Halloween parade which was a huge success.
Part of our November training was a reminder of healthy play with a team work activity by Mrs. Martinez.
Custodial and maintenance are working hard to keep our campus beautiful with all of our trees shedding their leaves.
We are a "B" school! Thank you to all the support by our governing board members and the hard work and dedication of our faculty and support staff. It takes a team, and we are so grateful of all the support and dedication!
Sincerely,
Karin Ward, Superintendent & Mrs. Allie Wheeler, Principal
We Are Hiring!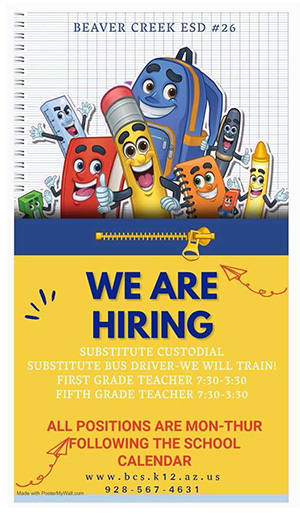 Come join the Creeker Team! Beaver Creek School District has several positions open for the coming school year. Available positions include:
Custodial
Substitute Bus Driver
Full-Time Roving Substitute
Paraprofessionals
Certified Positions: Special Education Teacher, Third Grade Teacher, First Grade Teacher
Please see the Beaver Creek Hiring flyer for all the details.
Educating the Students of the Verde Valley Since 1881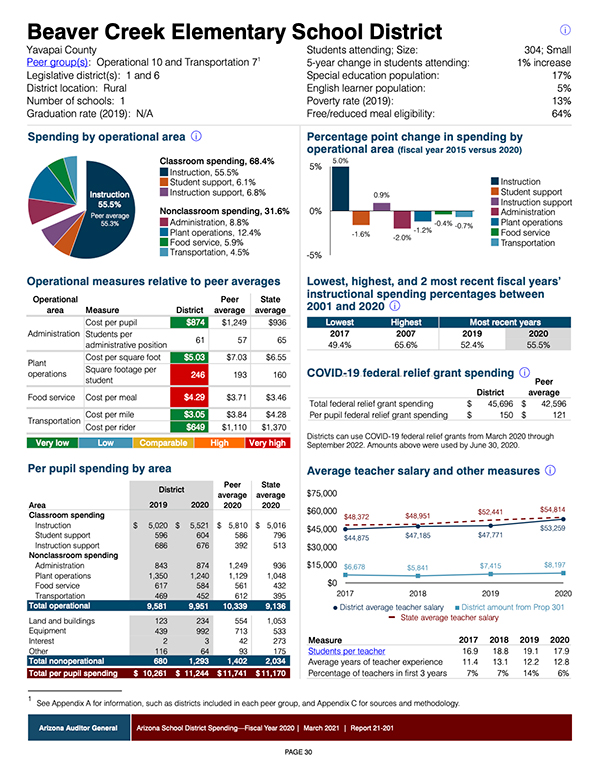 Welcome to the online home of Beaver Creek School District, where we are proud to educate Verde Valley's public school students from preschool through middle school. Here, under the guidance of our supportive, highly trained educational team, our students build a solid foundation of educational experiences that will help prepare them for high school and beyond.
Average Teacher Salaries
Please note that the budget revisions will reflect the changes.
Average Teacher Salaries (A.R.S §15-903.E)
1. Average salary of all teachers employed in FY 2023 (budget year): $49,205
2. Average salary of all teachers employed in FY 2022 (prior year): $44,133
3. Increase in average teacher salary from the prior year: $5,072
4. Percentage increase: 11%
Several open teaching positions have yet to be filled, this average is based on 14 teachers instead of 17 positions.