Beaver Creek School District
A Message from Our Superintendent and Principal
April 2023
Happy spring! We are hopping with joy at the wonderful weather and exciting things happening here at Beaver Creek School. Our students and staff are working hard finishing up state standards and reviewing for state and district tests. Kindergarten through fifth grade are busy rehearsing for our spring concert in May, and kindergarten and 8th grade are working on plans for promotion. What a busy month! We are so grateful to our wonderful teachers and staff for all their dedication and to our students and families for always being supportive and hardworking. We look forward to sailing through this month and moving into our field trips and celebrations.
Please see the April newsletter for additional information.
Sincerely,
Karin Ward, Superintendent & Mrs. Allie Wheeler, Principal
We Are Hiring!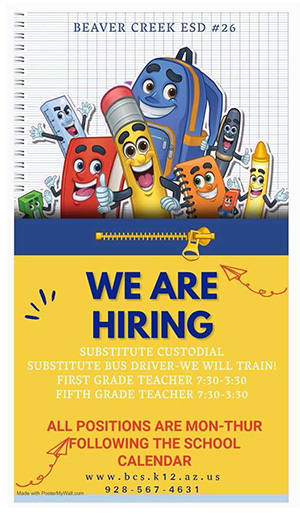 Come join the Creeker Team! Beaver Creek School District has several positions open for the coming school year. Available positions include:
Custodial
Substitute Bus Driver
Full-Time Roving Substitute
Paraprofessionals
Certified Positions: Special Education Teacher, Third Grade Teacher, First Grade Teacher
Please see the Beaver Creek Hiring flyer for all the details.
Educating the Students of the Verde Valley Since 1881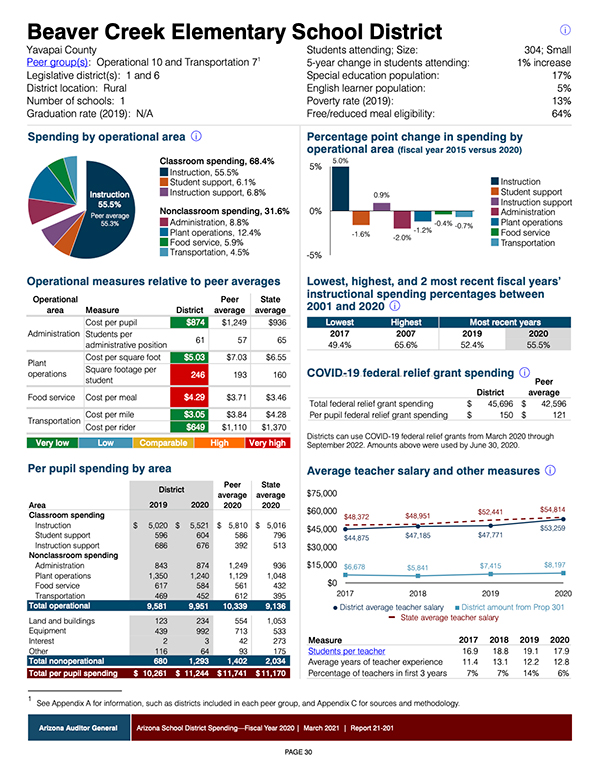 Welcome to the online home of Beaver Creek School District, where we are proud to educate Verde Valley's public school students from preschool through middle school. Here, under the guidance of our supportive, highly trained educational team, our students build a solid foundation of educational experiences that will help prepare them for high school and beyond.
Average Teacher Salaries
Please note that the budget revisions will reflect the changes.
Average Teacher Salaries (A.R.S §15-903.E)
1. Average salary of all teachers employed in FY 2023 (budget year): $49,205
2. Average salary of all teachers employed in FY 2022 (prior year): $44,133
3. Increase in average teacher salary from the prior year: $5,072
4. Percentage increase: 11%
Several open teaching positions have yet to be filled, this average is based on 14 teachers instead of 17 positions.