Beaver Creek School District
A Message from Our Superintendent and Principal
June 2023
Hello Beaver Creek ACE of Hearts (Families),
Happy summer vacation! As we all enjoy our wonderful weather and spending time with families, our Beaver Creek staff are busy getting ready for our next school year. We have our painting project continuing around campus, so be excited for a freshly painted exterior of campus when you return on July 27 for our back-to-school barbecue. We are in the beginning stages of a drainage project to help divert water off of campus to assist in our issue with flooding (no more buckets for Mr. K. and Lake Mrs. Guth will hopefully be gone). We are also looking at adopting some new curricula for science and a supplemental curriculum for math to assist in the differentiation of skill gaps in math. We had an open meeting on May 19 where we discussed which curricula and programs teachers felt they wanted to recommend to the governing board. At the June 12 governing board meeting Beaver Creek School will be recommending adopting IXL for math and Generation Genius for science. These curriculums will be available for parent and governing board review on our school website and class dojo for 60 days. If you have any questions or comments, please reach out to Mrs. Wheeler and we will help find answers and review items with anyone who has questions.
Please enjoy your summer and our beautiful weather and reach out when you have questions. We are always here!
Some important dates to remember:
June 12: Governing Board Meeting
Mid July: Supply Lists and Backpack Sign Ups
July 27: Back-to-School Barbecue
August 1: First Day of School!
Thank you for your continuous support! You are the ace of hearts! Keep up the great work!
Links:
Sincerely,
Karin Ward, Superintendent & Mrs. Allie Wheeler, Principal
We Are Hiring!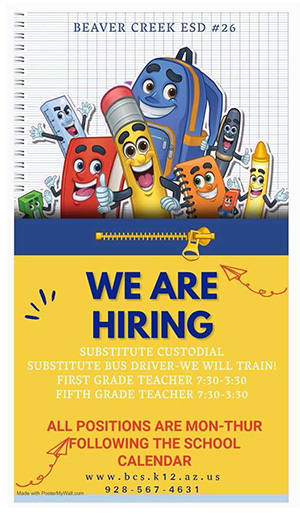 Come join the Creeker Team! Beaver Creek School District has several positions open for the coming school year. Available positions include:
First Grade Teacher
Fifth Grade Teacher
Middle School Teacher (ELA or Social Studies)
Custodial
Front Office
Food Service
Paraprofessional
Substitute Bus Driver
Please see the Beaver Creek Hiring flyer for all the details.
Educating the Students of the Verde Valley Since 1881
Welcome to the online home of Beaver Creek School District, where we are proud to educate Verde Valley's public school students from preschool through middle school. Here, under the guidance of our supportive, highly trained educational team, our students build a solid foundation of educational experiences that will help prepare them for high school and beyond.
Spending Reports
Average Teacher Salaries
Please note that the budget revisions will reflect the changes.
Average Teacher Salaries (A.R.S §15-903.E)
1. Average salary of all teachers employed in FY 2023 (budget year): $49,205
2. Average salary of all teachers employed in FY 2022 (prior year): $44,133
3. Increase in average teacher salary from the prior year: $5,072
4. Percentage increase: 11%
Several open teaching positions have yet to be filled, this average is based on 14 teachers instead of 17 positions.